Calculating the Long-Term Value of Your Commercial Paint and Wallcovering Investment
A Property Manager's Guide to Paint and Wallcovering ROI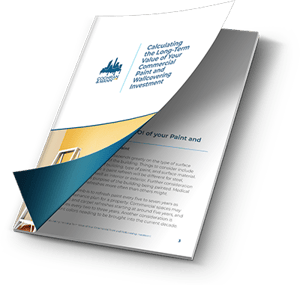 Calculating the long term value of your paint and wallcovering projects can be quite difficult. Some industries require painting at different intervals and with different techniques. Finding the right paint partner can have an impact on how often you'll need to repaint and reseal. The products used can drastically change your timelines. All of these considerations, and more, are covered in our informative guide, Calculating the Long-Term Value of Your Commercial Paint and Wallcovering Investment.
In this guide, we discuss:
Industry standards in how often you'll need to repaint various surfaces
When it's best to hire a professional for paint projects
Common customer objections and the impact they have on your return on investment
Questions to ask of your paint and wallcovering vendors during the vetting process
It's difficult to sift through all the noise and find the right partner, products, and process for your projects. Our guide cuts through the distractions and gets right to the point: how you can determine the right timing and get the most value for your budget.
Download your free eBook today.